Thinking about a Minecraft Home Server? Here Is Everything You Need to Know & Mike's Recommended Specs for a 100 Player Server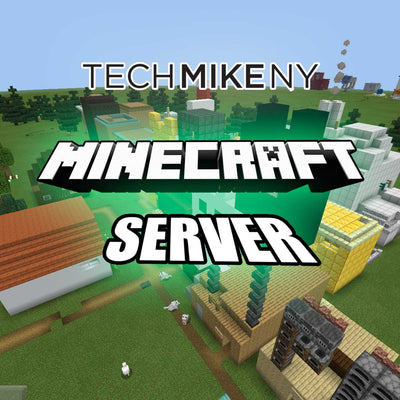 Have you been thinking about a Minecraft home server but aren't sure exactly where to start or what you will need?  Do you feel limited by realms and the cap on players that can join?  It turns out that a rack server – due to Minecraft's emphasis on CPU and RAM – can be the perfect device for meeting the Minecraft home server hardware requirements.   
In this post, we'll cover basic tips and recommendations for building your own Minecraft home server, questions to consider, and general guidelines for specs based on a 100-player server.
Pick Your Platform: Java vs. Bedrock
One of the big decisions you need to make before you start building your Minecraft server is which edition you want your machine to host: Java or Bedrock.
The Java Edition of Minecraft is the original version of the application.  It is compatible with Windows, macOS, and Linux Operating Systems.  As the popularity of Minecraft grew – along with the need for the game to run on other systems, such as gaming platforms and mobile devices – Mojang developed Minecraft's Bedrock Edition.   The main advantage of Bedrock is that it allows players to interact across platforms. So a server running Minecraft Bedrock could host players from PlayStation, Xbox, mobile devices, etc.
You may think that would make it a no-brainer to go with Bedrock – however, there are some significant caveats with running Bedrock when it comes to certain plugins.  Also, there are limitations when it comes to hosting large communities. 
Here are some high-level bullet point pros and cons between Java vs. Bedrock:
Java Edition
Pros:
Expansive plugins and mods, more so than Bedrock due to the Java edition having been in the market for over ten years.

It is more stable when it comes to multi-player communities because of the large ecosystem of Minecraft servers that have already been developed and tested. 
Cons: 
No cross-platform hosting. Players on other platforms would not be able to join your world running on Java Edition. 
Bedrock Edition
Pros:
Cross-platform hosting. Players on different platforms can join your server.
Cons:
Some limitations exist in terms of mods and plugins; since it is cross-platform, there are fewer community-based features built-in, such as the command system.

Since the server version of Bedrock hasn't been around for as long, as of this writing, it's still in Alpha Release. Consequently, there are still potential issues and bugs that are being ironed out. 
Bottom line: if you happen to know players on different platforms that will join your Minecraft server, Bedrock is probably the way to go since that's the only way they can join your server. If you want to emphasize mods, plugins, and community features, the Java Edition is your best bet.
TECHMIKE WANTS YOU TO SAVE A BUCK!
Another significant advantage of the Java Edition is that, from its inception, it runs on Linux.  Linux is a free, open-source O.S., thus freeing you from the need of paying for an O.S., e.g., Windows. TechMikeNY sells servers preconfigured with Ubuntu, a Linux-based O.S.
 
ONE LAST FOOTNOTE ON PLATFORMS: If you are committed to running Java Edition on your Minecraft server but know that you will have Bedrock Edition players joining, one possible solution is a software tool called Geyser.  Per their website, "Geyser is a proxy, bridging the gap between Minecraft: Bedrock Edition and Minecraft: Java Edition servers. The ultimate goal of this project is to allow Minecraft: Bedrock Edition users to join Minecraft: Java Edition servers as seamlessly as possible to allow for true cross-platform." 
We haven't had a chance to test it out at TechMikeNY, so we can't speak to its functionality and stability, but the option is there!

MINECRAFT HOME SERVER HARDWARE REQUIREMENTS FOR 100 PLAYERS
Now that we've covered the software and platform side of things let's talk about hardware.  Fortunately, the hardware requirements for a single instance of Minecraft aren't that extreme.  That said, we're looking to build a 100-player server, so we want to make sure it can handle your large Minecraft community.  Go big or go home!
Here are some high-level hardware guidelines:
Processor: Most of Minecraft's processes will run on a single core, so you'll want to emphasize clock speed over multiple cores.
Hard Drives: for fast gameplay, go with SSD's. For even better performance, SAS SSDs.  (For backup purposes, HDDs are acceptable). 
Network card. Go with a minimum of 1 Gbps – just be sure that your ISP is providing enough bandwidth to handle that network speed, both downstream and upstream.

Minecraft is CPU and RAM-intensive and does NOT do a lot with your Graphics Card.  You can get away with using the native Graphics Card in a rack server. 
UP FOR DEBATE:
Some Minecraft forums suggest the use of RAMdisks to accelerate world loading.   We don't recommend it as RAMdisks are highly volatile, and while there would undoubtedly be an increase in loading speeds, it should only be considered if there are constant backups.  An SSD with a SAS connection is a more stable, high-speed storage solution. 
Here are the Minecraft server hardware requirements for 100 players.  These are high-end specs, which would let you run a Minecraft server, with any and all mods & plugins, with impunity.  
3.50GHz speed processor.
60 GB RAM
500GB SSD for gameplay
2TB HDD for backups.
You can always adjust these Minecraft server specs, e.g., if you only plan on hosting 50 players, you could halve the specs accordingly.  If you plan to create a massive world, you could increase the storage. 
Additionally, you can host more than one Minecraft server on a device – just be sure to account for the cores and RAM!
Finally, since most – if not all – Minecraft servers tend to run out of a home, some of our other resources might be very helpful in energy consumption, and noise considerations based on different Minecraft server specs. You can read our blog post Sound Tips to Keeping Your Server Quiet, and Efficient Tips for Minimizing Your Server's Electricity Bill: Energy-Efficient Servers.  And don't forget our Server Guide page which has environmental data we compiled on our popular server models.  

Mike's Pick for a 100+ Minecraft Server
Our Dell PE R430 Server is configured based on the approximate Minecraft server specs discussed. Since this is on our Configure-to-Order page, you can adjust the specs appropriate for your build.  (NOTE: this configuration includes a RAID controller which will allow you add drives to the server).  
Final Thoughts
With its upgradeability and emphasis on CPU performance, a rack server is an ideal vessel to create a Minecraft home server.  A refurbished rack server offers the prowess of Enterprise-grade tech at a fraction of the cost. 
Do you have more questions?  Reach out to us at info@techmikeny.com, and we'll happily answer them!