The Man Behind the Myth. The Real Mike of TechMikeNY. (Yes, He's Real!)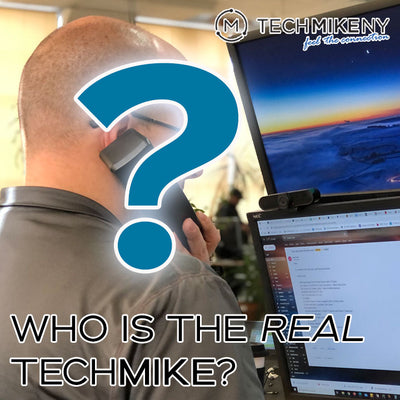 We are often asked, "Is there really a 'Mike' at TechMikeNY?  Or is he some kind of mythical tech guru, a literary construction you created sell servers?" 
Mike is very real.  
Mike heads up our Customer Service & Support department, and it goes without saying he's been with TechMikeNY since the very beginning (since it would never have been TechMikeNY without him!).  In fact, many customer support email queries are answered directly by Mike, and he handles virtually all of the phone support tickets.  
The TechMikeNY Origin Story is so interesting and fun that we felt we had to share with our customers.  We convinced Mike to sit down with us for some brief TMNY history and glean some pearls of wisdom from his vast experience with enterprise server hardware.  After all, he's only been doing it for over twenty years!
Do you prefer "Mike," "TechMike," or "His Technical Excellency?"
Mike is fine.  
How did you first get into computers and technology? 
My Dad repaired and maintained small computers/servers and mainframes for a Fortune 500 computer and technology company for the majority of his 30+ year career after serving in the military. At the age of 5 or 6, our first computer was a Texas Instruments TI99/4a system with an external disk unit with two 5.25" floppy disk drives. We had some similar games to Atari, such as Pac-Man, Donkey Kong, and Brick Breaker on game cartridges. My Dad also wrote a simple/graphical horse racing game that was fun to play when family and friends came over, screaming at the TV (maybe 640x480 resolution or even less possibly), hoping our horse would win the race.
At around the same time, we also purchased an IBM 8088 based PC. Initially started with 2x 5.25 floppy disks running DOS, later on, added a 20MB hard drive, then ran out of space and used a DOS compression utility called "DoubleSpace," giving us about 40MB.
A few years later, we purchased a white box PC with an Intel 386 Processor and later upgraded it to a 486SX. This was when I started doing some of the upgrades myself, with Dad by my side. We had set up a dual boot with DOS/Windows 3.1 and IBM OS/2. I recall editing the Autoexec.bat and config.sys files with HIMEM commands so that my games could run with enough system RAM over the 640K that DOS provided.
I believe we had Pentium 2 or 3 PC after that. I went on to NYIT for Computer Science with a 133Mhz Pentium Laptop. After college, I took a Microsoft MCSE course and completed a couple of Microsoft certifications.  Through that course, I was able to get a job at a Long Island-based computer recycling company where I could test, repair, and sell PCs, servers, laptops and research specialty products that the company received from various clients.
How did TechMikeNY start?  What was the biggest challenge in getting started?
TechMikeNY grew as a brand out of the parent company, Ombligo Inc.
TechMikeNY was my personal eBay ID. We started to sell some products on that account after the owner and I began Ombligo.
The biggest challenge was and always will be sourcing equipment and parts to sell.
Having been involved with tech for over two decades, what is the most surprising change?  Computer processing power?  Storage volumes?  Any bold predictions for the next twenty years?
The most impressive component is storage capacities, especially when comparing the size and weight of a 20MB hard drive from the 1980s to a multi-Gigabyte or Multi-Terabyte SSD. Also impressive are the MicroSD cards available these days with 256GB on a piece of plastic, smaller than the size of a fingernail.
Bold predictions: We all know the progression of tech is smaller, more powerful, with more storage capacity. I think the storage and physical devices will change to alternative materials—things like micro-crystal storage and holographic, high-resolution displays.
What has been the most satisfying part of the TechMikeNY brand?
It is definitely satisfying to hear a customer's feedback on their TechMikeNY servers.  Our tech team does a great job testing, building, and shipping.  We're always listening to our customers and employees for feedback and suggestions to adjust our processes for increased efficiency, accuracy, and reliability. Grateful to have such an amazing team working with us.
EDITORIAL NOTE: We would be remiss not to mention that Mike is correct on how much we value our customers' feedback.  We are very proud of our strong Google customer reviews (5 out of 5 stars as of this writing!), as well as our feedback ratings on our other channel stores, such as eBay, Amazon, and Newegg. 
Any helpful tech hacks or quick words of wisdom that may apply to both novice hobbyists and IT admins?
KISS usually works with me in many situations. "Keep It Simple Stupid."
If you're up against a difficult decision or choice, usually, your first choice or decision is the best one.
We have to ask: did your parents almost name you something else?  How close were we to "TechBartholomewNY?" 
Nope, my Mom liked the name Michael.