TechMike's RAM Compatibility Checklist, Part 2: What About Speed?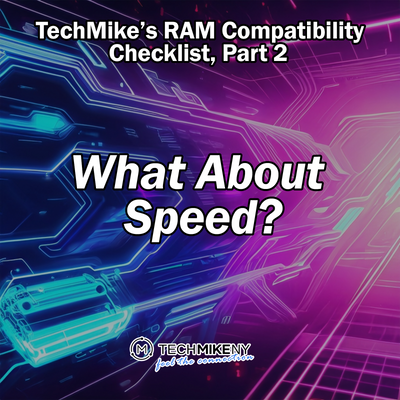 Too slow... too fast... juuust right. Yep, that's right. We're talking max RAM speed.
You may have already read the RAM Compatibility Checklist. (Hopefully.) But there's one crucial specification we didn't cover that determines whether your system even boots up - the max compatible RAM speed.
We know, just when you thought you had this RAM compatibility thing pinned down, there's ANOTHER set of memory specs to keep in mind. But the truth is, finding the right RAM requires looking at both your processor's limits, as well as your system-board's limits. In this blog post, we'll look at why matching the RAM speed is so important for different server generations. (Oh, and we made a handy RAM compatibility chart for different processors - you know we've got you covered.)
(This article includes some info you may want to know from TechMike's Full RAM Compatibility Checklist.)


RAM Refresh

As a recap from last time, the key specs to check when you're looking to see if a RAM module is compatible with your system are:


RAM Generation

- DDR 3 vs DDR 4

Memory Rank

- Single Rank, Dual Rank, or Quad Rank.

Memory Type

- ECC or non-ECC

Voltage

- Low Voltage (LV) or non-LV. (You can mix these, but you'll lose the Low Voltage features the moment you add in non-LV.)

Buffering

- Buffered/Registered or Unbuffered.

Load Reduction

- Load Reduced (LRDIMM) or non Load Reduced RAM.
And as a reminder of the best practices when looking at RAM compatibility…

Use the system/motherboard specs and manuals. They exist for a reason!

Mixing RAM can cause performance issues; best practice is to use the same model/brand RAM sticks. Especially when adding to an existing system, your best bet will be to match RAM specs and brands.




For how to identify RAM specs based on the module descriptions, check out:
Laptop & Desktop RAM Terminology
Server & Workstation RAM Terminology
Matching Maximum RAM Speed
In addition to making sure that all of the RAM's relevant specs line up with that of the specific server, you're also going to need to look at speed. Regardless of what the individual RAM module's maximum RAM speed is, the actual fastest RAM speed you'll be able to achieve will be limited by the max speed that both your processors and your system are able to handle.

Deciding which RAM is right for your system also requires looking at both the processor's specs and the system specs.
Step 1: Look at the system specs.

The maximum memory speed you'll be able to achieve in your system will depend on the specific model and generation. For Dell servers, the original system-boards for 13th generation models like the R630, R730, and R730xd support up to 2400 MT/s (DDR4 2400). For 14th generation systems like the R640, R740, and R740xd, the original system-boards support up to 2933 MT/s (DDR4 2933). So you'll want to check what generation your Dell server is and what the specs say is the maximum memory speed for that system board.


RULES OF THUMB:
In 12th and 13th gen servers, you can *technically* install faster RAM than the processors/system-board support; however, the system board version and the procs will still limit RAM speeds to whatever their max speed is. For example, in 13th gen servers, you can *technically* install DDR4 2666Mhz; however, the processors that are compatible with 13th gen servers will only run the RAM at up to 2400Mhz.

In 14th gen servers with original system-boards, you cannot install faster than 2666Mhz RAM with gen 1 processors (e.g. Silver 4110 or Gold 6150 or Platinum 8160); well, you can, but the system won't boot. Faster RAM here can only be used with gen 2 processors (e.g., Silver 4210, Gold 6250, Platinum 8260).
With the second version of the 14th gen system-board, you'll be able to install faster RAM, but it'll only run at your processor's maximum RAM speed. (You can use 3200 Mhz RAM with a v2 14th gen system-board, but it'll only run at 2933 Mhz.)

That being said, the max RAM speed will also be limited by the processors you're using. So your next move is to…
Step 2: Look at the processor specs.


If you're looking for processors compatible with Dell's 14th Gen servers and HP's 9th Gen Servers, that would be Intel's Xeon E5 v3 and Intel's Xeon E5 v4 Families. Generally speaking, the max RAM speed that processors from each of the following series would actually run would be:

Intel E5 v3 Family: 2133 MHz
Intel E5 v4 Family: 2400 MHz


As Dell's 14th Gen Servers, you'll be looking at processors from Intel's Scalable Processors Family. The Scalable Processors are divided up into the categories of Bronze, Silver, Gold, and Platinum (using a version of the Olympic ranking system, with Bronze at the low-end and Platinum at the high-end). The higher-end the processor, the faster max RAM speed it can run. So the below would be the fastest RAM speeds that the Gold and Platinum processors from each respective series would run:
Intel Scalable X100 Series:
2666 MHz
Intel Scalable X200 Series:
2933 MHz
Intel Scalable X300 Series:
3200 MHz
BONUS - Note for Nerds: (Save Image to Zoom In)


RAM Compatibility Chart for Different Processors
Here's a quick sample of what memory speeds some of our best-selling procs allow for:


Processor Series

Processor Model

Max RAM Speed

Max RAM Size

Compatible RAM Types

Intel® Xeon® Processor E5 v3 Family

E5-2640 v3

1866 MHz

768 GB

DDR4 1600 /1866

E5-2690 v3





(

Same RAM specs as E5-2697 v3

2133 MHz

768 GB

DDR4 1600 / 1866 / 2133

Intel® Xeon® Processor E5 v4 Family

E5-2667 v4

2400 MHz

1.5 TB

DDR4 1600 / 1866 / 2133 / 2400

E5-2680 v4

2400 MHz

1.5 TB

DDR4 1600 / 1866 / 2133 / 2400

E5-4669 v4

2400 MHz

1.5 TB

DDR4 2400

Intel® Scalable X100 Series

Silver 4110

2400 MHz

768 GB

DDR4 2400

Gold 6150

2666 MHz

768 GB

DDR4 2666

Platinum 8170

2666 MHz

768 GB

DDR4 2666

Intel® Scalable X200 Series

Silver 4210

2400 MHz

1 TB

DDR4 2400

Gold 6252

2933 MHz

1 TB

DDR4 2933

Platinum 8268

2933 MHz

1 TB

DDR4 2933

Intel® Scalable X300 Series

Silver 4310

2667 MHz

6 TB

DDR4 2667

Gold 6354

3200 MHz

6 TB

DDR4 3200

Platinum 8352Y

3200 MHz

6 TB

DDR4 3200
If the RAM type matches up with the processor and the max system board speed, congratulations! You made everything lines up juuuust right. Goldilocks would be proud.


Need help figuring out if your RAM's compatible? Just ask us at info@techmikeny.com or (718) 635-9880.