RAM Terminology – Part 2. How to Identify Server & Workstation RAM Specs by the Description on the Module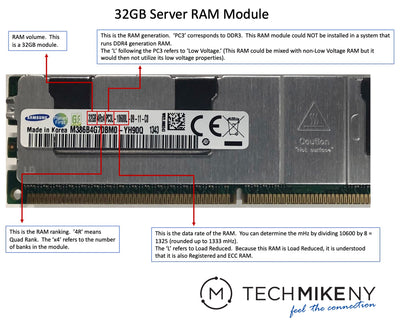 In previous posts, we've looked at identifying RAM by looking at your system specs and how to identify RAM by looking at the specs on the RAM module, with an emphasis on laptop and desktop RAM.
This post will do the same exercise, but we'll be looking at workstation and server RAM.  If you are asking, "What's the difference?" as you'll see, workstation and server RAM has some additional features due to their higher workloads. 
First, a quick primer/refresher on the main components of server RAM:
DDR3 vs. DDR4 – This refers to the generation of RAM. The main take-away is DDR4, and DDR3 RAM is not backward compatible.  In other words, you CANNOT install DDR4 RAM into a system board that takes DDR3 (and vice-versa).  You can determine what generation the RAM is by the 'PC3' vs. 'PC4' on the module (as you'll see later).
ECC (Error Correction Code) – This is a type of RAM with an additional chip for limiting data corruption.
Low Voltage (LV) RAM – Low Voltage RAM is energy efficient RAM. You can mix LV and non-LV RAM modules, but the system will no longer utilize the Low Voltage features of the LV RAM if it is combined with non-LV RAM. 
Ranking – In a nutshell, Memory Rank refers to how many data blocks are on a memory module. You can have Single Rank, Dual Rank, or Quad Rank.  Crucial has an in-depth article on Memory Rank here.  Ranking becomes essential if you plan to install the volume of RAM in your system to the maximum. 
Registered – Registered RAM has an additional circuit on the RAM module to place less electrical load on the memory controller.
Load Reduced (LRDIMM) – Load Reduced RAM has an added Memory Buffer chip between the system's Memory Controller and the RAM module, allowing for server manufacturers to put more modules on each memory channel. Load Reduced RAM has become standard on Enterprise servers since they often emphasize a high RAM capacity in their design.  
Tech Deep-Dive:
For
the Dell 12th generation servers (e.g., R620, R720, etc.) Quad Rank RAM "tricks" the server into thinking that it's Dual Rank RAM (the 32GB PC3-10600L, 12800L, and 14900L modules are typically Quad Rank). Why? The 12th gen servers cannot handle filling all of the slots with Quad Rank RAM due to the number of "pathways" available. The Load-Reduced RAM "tricks" the server into thinking that it's Dual Rank RAM so that all of the 24 RAM slots can be filled to provide the maximum capacity of 768GB on the R620, R720; and 1.5TB on the R820 with 48 RAM slots (with all four processors).
Now let's take a look at some specific server & workstation RAM modules and breakdown the specs.  Below is a workstation or server RAM module (depending on the specs of the system):
Now let's take a look at a 32GB Server module.  A critical takeaway: since this server RAM is Load Reduced (refresher: Load Reduced RAM is designed for systems running a high volume of RAM), it's understood that it is also Registered and ECC RAM. 
Last, we'll look at workstation RAM (that could possibly work in an entry-level server depending on system specs).  Note the 'E' after the RAM speed refers to Unbuffered, ECC RAM. 
Hot Tip!  We suggest matching RAM specs as much as possible.  While theoretically, you can mismatch certain specifications of RAM modules in the same system, doing so could impact system performance by putting added stress on your system to reconcile the differences. 
Our Techs are on standby to help you with any questions you have on upgrading or system's Memory – or any other questions you may have!