Server Chassis Compatibility: Questions Answered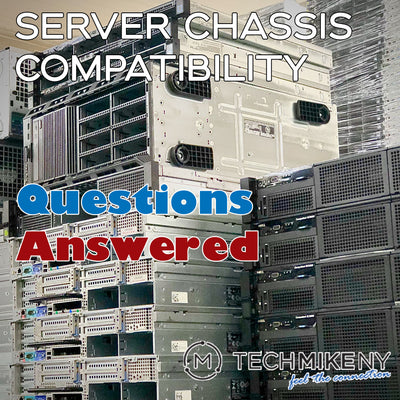 One of the unique services we provide to our customers is sharing our deep knowledge of the subtleties of enterprise server chassis.  For example, a Dell R630 can have different drive sizes (LFF vs. SFF) and a different number of bays.  Even though they are all under the same model designation, these differences can dramatically impact what components you can install (and even what cables you need under the hood!)  
In this post, we're sharing some of the deep-dive server chassis compatibility questions our customers have posted to our sales and support team. These queries cover the gamut of backplane cables, flex bay options, USB PCIe installation, and options on optical drives – a wide breadth!  
Hi TechMikeNY.  I'm looking to purchase a hardware RAID controller for my Dell PowerEdge R720. The onboard S110 controller would only allow a RAID setup of a maximum of 2TB. I have 4x 4TB SATA drives and trying to maximize the utilization. Looking under the lid, I see a mini-perc interface on the motherboard but do not see any cables running to it. What am I missing? 
Thanks for reaching out.  Here is a link for two compatible RAID controller options for your R720 (the 'P' designates a controller with a higher cache): 
https://techmikeny.com/products/dell-perc-h710-mini-raid-controller
https://techmikeny.com/products/dell-perc-h710p-mini-raid-controller
As for the cables: Please share the version of your R720 (i.e., 8-Bay SFF, 16-Bay SFF, etc.).   
We do have SAS cables which we do not regularly list on our website. We can manually add one to your mini-PERC order once we receive confirmation of the R720 version (specific R720 versions may take a different type of SAS backplane cable).
(PS, If you're curious to read more about backplane cables and PERC compatibility, you can read our blog post here.) 
Hey Mike.  I'd like a server an optical drive.  Is this possible? 
Yes, some configurations we offer have the option for an optical drive. 
Models with an optical drive installed are listed in the machine specs, and you can select from our Configure to Order page, which will list the option for an optical drive from the dropdown with models it is available.  (NOTE: Generally, models with fewer hard drive bays offer the option for an optical drive.  For example, an R630 8-Bay has the option to add an optical drive, but the R630 10-Bay does NOT – that space for the optical drive is taken up by the added drives). 
We should mention that many of our customers have switched over to using USB flash drives to install operating systems. For other software, the majority of applications are downloadable over the web. The flash drives are easily re-writable and low-cost. 
I'd like to add a PCIe USB card to my server.  Do you have any guidance on that? 
We have found that third-party PCIe USB cards usually cause fan issues or cause the server to be unable to boot.
If you need access to USB ports, there should be several on a server and, depending on the server model, some internal on the motherboard itself. 
Hi, Mike.  I bought a TechMikeNY R730xd a couple of days ago, and now I'm thinking about adding a mid-bay for 3.5" drives.  Is it compatible?  Is there anything I should be aware of?
Yes, this part you linked is compatible with the R730xd.  However, because it takes up more room in the center of the server chassis, the mid-bay will require low-profile heat sinks that will need to be swapped out. 
We offer a complete mid-bay upgrade kit that includes the low-profile heat sinks.  Let us know if you are interested. 
Hi Mike.  I am taking on a project and would love your expertise.  I am looking to purchase an HP ProLiant DL380E G8.  I intend to gut this machine and then fit old ATX parts into it – just using the HP server for the case/chassis and backplane. I just want to make sure that I won't run into any kind of proprietary connectors that make this impossible.  Would you recommend a Dell server instead?   
Unfortunately, both Dell and HPE servers are loaded with proprietary connectors from the fans, to the backplane.  Neither manufacturer produces a server seamlessly compatible with an ATX board or parts. 
Your best bet is to use the modular components you may have – RAM, hard drives – and then use those to upgrade a refurbished server.  We are happy to help with compatibility.  
Have more server chassis questions? We will answer!  Shoot us an email at info@techmikeny.com or leave it in the comments below.