New Feature Update: Share Your Cart!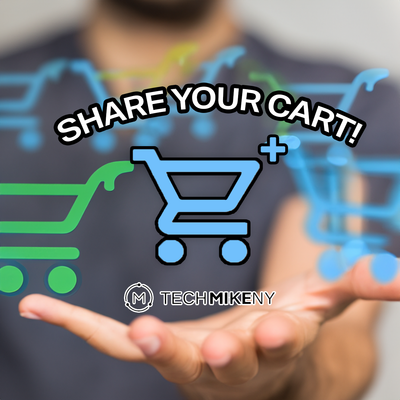 We briefly interrupt your regularly scheduled TechTalk to bring you a new feature: Share Your Cart!
Want your boss, purchasing team, spouse, or even archnemesis to buy you that new server you've been eyeing? Well, we've added a handy "Share Cart" feature to make it happen.

Understanding that our customers often need approvals on their orders prior to purchasing them, we decided to design a feature to make the process smoother. The new "Share Cart" button allows you to seamlessly forward a link to your cart to anyone, regardless of what browser they use.


How to Use It

You'll find it conveniently located directly to the right of the "Clear Cart" button on your cart page. (Make sure you don't get those two mixed up!) When you're ready, simply click on the button, and the link to everything in your cart will instantly be copied to your clipboard.


GIF: Using the share cart feature on TechMikeNY.
No more having to manually list out that perfect custom configuration you've painstakingly chosen. No more emailing an extensive parts list. Just click and share!
Whether you want to send your purchasing team your ideal setup or add something to your holiday wishlist, we hope that the "Share Cart" feature makes it just a little easier to bring new gear into your life.
Let us know if you have any other feature requests - we're always aiming to improve your shopping experience here at TechMikeNY!