Newest Additions to TechMikeNY's HomeLab Hall of Fame!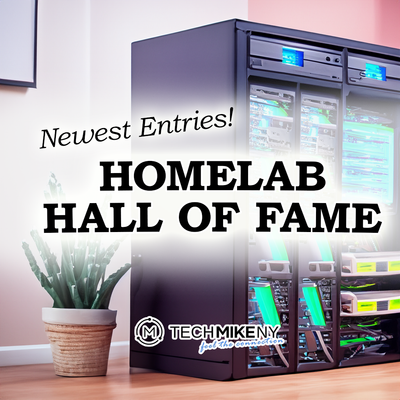 Over the summer, we put out another call for submissions to TechMikeNY's HomeLab Hall of Fame and asked our Instagram followers to send us their labs. And once again, we were blown away. As always, our community came through with some seriously impressive setups. Take a look at the latest inductees into the HomeLab Hall of Fame:

@rdwarkha's HomeLab:




"This is my lab, 14 Dell servers, all from you guys. I would never buy a server from anyone else.

This is a bare metal Kubernetes stack that is deployed with a container OS (flatcar) and is used to simulate larger deployments. There is a lot of custom software development that is performed on this cluster.

1 server is the main router with 3 dual port 10 interfaces to simulate 3 racks and top of rack l3 switching. The infrastructure is back by the R730 as the main deployment server with 24 x1g disks in a ZFS pool. Three servers act as the Kubernetes controller and ceph monitor servers, and the remaining 9 are used as nodes and as ceph OSD servers for proving persistent volumes for the Kubernetes cluster.

Currently it is all off, as I am redesigning it to be all layer 3 BGP routed, so no l2 switching."

@wickedliam's HomeLab:


"My homelab is a place to use and hone my work skills. I'm an OT Infrastructure engineer.

From the top down:

> 48 port Unifi switch with POE. This runs several cameras and all my network devices and WiFi.
> 16 port 10GB unifi switch which runs my Desktop, Storage network and VM networks.
> Pfsense Main Firewall running 2.7.0 that runs my 2GB fiber internet connection. Some items I run on here are PFBlocker (Pihole for PFSense) Suricata for IPS/IDS.
> Fortigate 60F secondary firewall and tunnel to work
> R820 with 64 cores and 512GB of RAM running XCP-NG
> R720 with 32 cores and 512GB of RAM running XCP-NG
> R820 with 32 core and 512GB of RAM running TrueNAS this machine has 2 1.2TB Intel NVME PCI cards for Cache, 8 900GB SSDs for a VM pool
> Netapp disk shelf, this has 18 10TB drives. I use this storage for bulk storage for family and friends, steam library, ISOs, and secondary storage for VMs.
> 2 Dell UPS's that need new batteries.

I use my homelab for all sorts of stuff. I host several game servers including Minecraft, ARK Survival, 7 Days to Die and more, on the nerdy side. I run a few containers for my own code repo and runners that redeploy websites when I push to my repos, of course a RSS feed VM that monitors Distrowatch for new releases of ISO. I also run AWX to run scripts against my cluster to keep them up to date."


@intechrity's HomeLab:
"Let me show you my lab. It's in my hall closet. I cut out the shelf, put in backboard, this 16U rack. And this is not just a lab, it's my home production network. It's everything, you know?
I've got Xfinity cable internet coming into this, ARRIS SB8200, the go-to for cable internet. I've got a Sonos amp, bunch of Sonos speakers in the house. (This one is hardwired to create the Sonos net.) Patch panel up here, I have a Lorax 4k camera system in the attic, with 8 cameras around the house, those all wired in the box, and then the box into the network. 24 port UniFi switch Gen 2 with the DAC cable. UDM-SE. Run about 8 VLANs, pretty well segregated. I've got a PD power bar here that is okay.

I've got an old Optiplex that runs ESXI 8. On here is my lab runs a Windows 2019 domain controller and a Veeam 365 server. I do no need to work on this, because it's both production and lab. I also have a Plex server running on a physical box. I've replaced the internal hard drives in both of these and Optiplexes run forever.

Got a 10TB Western Digital drive and a 4TB backup drive. This is it, and it's rock solid!"

(Got a homelab you want to enter? Send it to us @techmikeny on Instagram or via email at info@techmikeny.com!)