The Fans Go Wild: How To Lower Fan Speed After Installing a Third-Party Card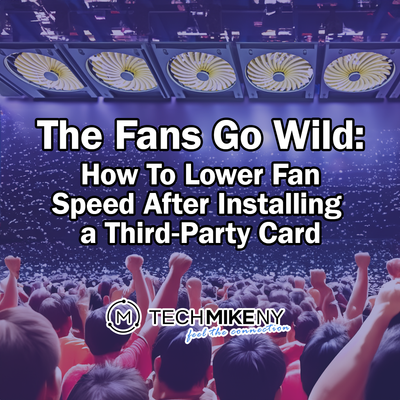 "I installed a non-DELL PCI card into my R730. Now, the fans are running super loudly at full speed and I can't seem to make them slow down. How do I make it stop?"

If you install a non-Dell PCI card into a Dell server, you may notice the fans immediately ramp up to full speed (and with that, full volume). Fortunately, with a little tweaking, there are some ways to get the fans back under control.

Why Do the Fans Speed Up?

Dell servers have temperature sensors that monitor system heat. When you install a PCI card, it changes the airflow inside the server. If the new PCI card gets hot, it could reduce cooling to other components.

To prevent overheating, Dell servers automatically increase fan speeds if they detect a non-Dell PCI card. This quickly ramps up airflow to compensate for the unknown card. Dell's rationale is that non-Dell cards haven't been validated, so the servers assume they need extra cooling.
Solutions for 12th and 13th Generation Dell Servers

For 12th generation and 13th generation Dell servers, you have two main options to tell your fans to ~cool it~ and bring their speed back down to normal:
Use the OEM IPMI Command

Dell has provided an IPMI command that disables the automatic fan response to third-party PCI cards. 
To use this command:
Enable IPMI over LAN

In the iDRAC interface, go to the remote access configuration/iDRAC setup screen.

Enable "IPMI over LAN" and set the required IP and credentials.

Get IPMI Tools

Linux users can install ipmitool through their package manager.

Windows users need to download the Dell OpenManage BMC Utility and install it.

Open a command prompt and navigate to the BMC utility install directory, usually

C:\Program Files (x86)\Dell\SysMgt\bmc\.

Run the IPMI Command

Run

ipmitool.exe

by itself to verify that it works.

Then, you're ready to go.
(Note: Substitute in your own iDRAC IP, username, and password in the commands below.)

Run the following command to disable the automatic fan response:
ipmitool -I lanplus -H <iDRAC IP> -U <user> -P <password> raw 0x30 0xce 0x00 0x16 0x05 0x00 0x00 0x00 0x05 0x00 0x01 0x00 0x00
If you want to re-enable the automatic fan response, you can run a similar command but with "0x00 0x00 0x00" at the end (instead of "0x01 0x00 0x00").



To check the current status of the automatic cooling response, run:

 ipmitool -I lanplus -H <iDRAC IP> -U <user> -P <password> raw 0x30 0xce 0x01 0x16 0x05 0x00 0x00 0x00
If disabled, the response will be: 16 05 00 00 00 05 00 01 00 00
If enabled, the response will be: 16 05 00 00 00 05 00 00 00 00
Manually Control Fan Speed

You can also manually set a specific fan speed percentage. Enabling manual control and setting a fan speed override will bypass the automatic fan response.

To do this:

1. Enable manual control:

Using the following command, you can enable manual control of the fan speed.
ipmitool raw 0x30 0x30 0x01 0x00
2. Set a manual fan speed percentage in hex:
ipmitool raw 0x30 0x30 0x02 0xff 0x2D
In this case, 0x2D is equivalent to 45% fan speed. Adjust the hex value to your desired percentage.


Keep in mind that after making these fan adjustments, you'll want to keep an eye on system temperatures to make sure adequate cooling is still occurring.

( Note: In the event that you absolutely need to disable manual control, here's the command to run. Doing so, however, will return your fans to running at whatever speed Dell deems necessary.     ipmitool raw 0x30 0x30 0x01 0x01 )
14th Generation Dell Servers

For 14th generation PowerEdge servers, you may be out of luck, as neither of the above solutions currently work. The IPMI command was phased out in more recent iDRAC updates, and manual fan control does not override the automatic response.

To use non-Dell PCI cards in 14th generation Dell servers, you will unfortunately either need to tolerate the high fan noise… or replace the cards with Dell versions.


Summary

12th and 13th generation Dell servers give you options to control fan speed after installing non-Dell PCI cards. For 14th gen servers, there don't seem to be any viable solutions. (Unless you've found a workaround, that is…  in which case, we'd love to hear about it in the comments below!)  

Having trouble telling your fans to cool it, got some tips for 3rd party cards, or just need some help? Drop a line down below or email us at info@techmikeny.com.